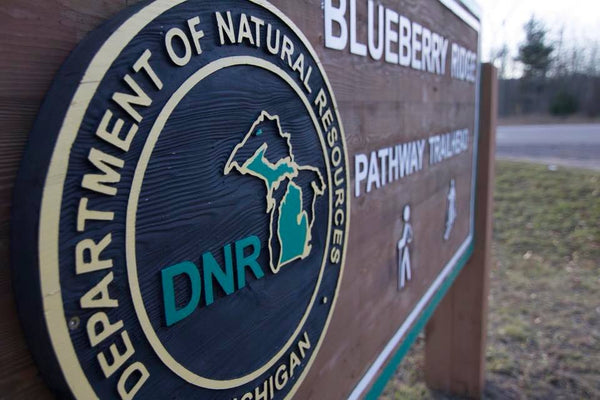 Blueberry Ridge Pathway | New Merchandise
WLUC TV6 News, Upper Michigan News | Coverage 
By Jerry Tudor | Posted: Wed 6:43 PM, Jan 10, 2018 | Updated: Wed 8:27 PM, Jan 10, 2018
MARQUETTE, Mich. (WLUC) - The Michigan Department of Natural Resources has partnered with a local business to create merchandise promoting the state parks.
Yooper Shirts has created apparel and accessories for a number of state parks, including Tahquamenon and Blueberry Ridge. Shirts, water bottles, pennants and more are available at the shop in Marquette.
Staff at Yooper Shirts said they're excited about the partnership.
"A lot of us are outdoor enthusiastic individuals and we're really, really proud to be working with the DNR and knowing that a percentage of the funds that we make on this contract is going back to that park and we're super excited to be able to give back to the entire Upper Peninsula," said Graphic Artist at Yooper Shirts Jacque Edwards.
The partnership is for three years. At the end of each year, 10 percent of the revenue from the state park merchandise goes to fund the state parks. 
Source: http://www.uppermichiganssource.com/content/news/Yooper-Shirts-Department-of-Natural-Resources-partner-to-offer-state-park-gear-468685473.html
As part of the Michigan State Parks (DNR) merchandise program to raise funds for state parks, trails and waterways, Yooper Shirts along with the wonderful team at Blueberry Ridge are extremely excited to release these two new shirts. The new sweatshirt and long sleeve tee,  listed below, are now available at the Yooper Shirts retail location downtown Marquette (503 N. 3rd St, Downtown Marquette, M-F 10-6pm, SAT 10-4pm), or shop online at YooperShirts.com